History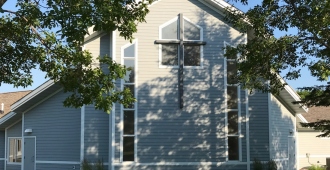 Historical timeline of Redeemer Lutheran Church, WELS
May 1988 - Exploratory work for a new WELS church in the Maple Grove area begins.
October 1989 - First Worship service is conducted by Pastor Leon Piepenbrink at Osseo Jr. High School.
January 1991 - Redeemer Lutheran Church receives mission status as a congregation.
May 1994 - Groundbreaking for our new church begins on a seven-acre property on Elm Creek Blvd.
Fall 1994 - Construction begins with the help of WELS Builders for Christ.
May 1995 - Dedication of new church building.
November 1998 - Pastor Leon Piepenbrink accepts call to serve full time in the Hmong ministerial training program.
May 1999 - Pastor Duane Schmeichel accepts call to serve Redeemer Lutheran Church.
Spring 2005 - Initial designs begin for a major expansion of our church building.
September 2005 - Shining Light Preschool opens for the first time.
February 2012 - The mortgage on the original building is paid in full.
May 2014 - The long awaited $1MM building expansion begins. The new 7,000 sq. ft. addition contains a new sanctuary, preschool classroom, narthex, and offices.
December 2014 - To the glory of God, the first worship service in the new sanctuary is led by Pastor Schmeichel.
January 2016 - A year long celebration of the church's 25th anniversary begins.
September 2016 - As enrollment reaches eighteen students, Shining Light Preschool adds a full day option.
February 2017 - Pastor Schmeichel accepts call to Lamb of God Lutheran Church, Madison, Alabama.
April 2017 - The search for a new Pastor begins.
March 2018

- Pastor John Maasch accepts call to serve Redeemer Lutheran Church.